First Private Screening in Theater set for December 7, 2013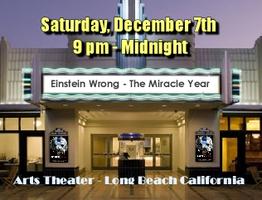 The first screening of Einstein Wrong will take place on Saturday, December 7, 2013 at the Arts Theater on 4th Street in Long Beach from 9 pm until midnight.
The first private screening of the new feature-length document "Einstein Wrong - The Miracle Year" in a real theater, by David de Hilster. Eight years in the making, the movie is about a suburban housewife who takes on the icon of 20th century physics and finds miracles along the way. After this screening, the film will be heading for festivals. This is a INVITATION ONLY event and not open to the public.
Get your free tickets online at: http://einsteinwrong.eventbrite.com